Cricket

A career highlight: being interviewed by Jonathan Agnew on Test Match Special, September 2021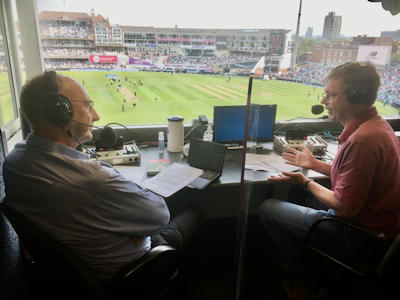 For many people, including me, cricket isn't just a sport, it is a way of life. Unfortunately, with the exception of the late lamented Channel 4 coverage, cricket has always been very poor at attracting and welcoming new spectators. Indeed cricket sometimes gives the impression of wanting to keep newcomers out altogether.
For many years there was nothing except a rather unhelpful teatowel to explain the laws of cricket to newcomers. It's the one that goes: "You go in until you're out, then you go out and the next player comes in."
It was the teatowel, as well as the bamboozled wife of my one of my team-mates, that prompted me to write "What Is A Googly?"in 1992. I was told by several publishers that there wasn't a market for this book, but nearly thirty years and 50,000 copies later it's still in print. I occasionally bump into people who say, "It was your book that got my wife/son/friend interested in this game". The book's most famous moment came when then Prime Minister John Major gave a copy to President George Bush Snr at Camp David. It also briefly peaked at No.4 in the Amazon Bestsellers after England's Ashes win in 2005.
In 2021 I decided to redirect all future royalties from What Is A Googly? towards supporting social cricket among adults. I set up a new charity called The Googly Fund with three co-trustees.
My other contribution to cricket has been very different. Although cricket has always thrived on statistics, until the 1980s there was no reliable method of comparing current players across the different countries. In 1986, I was approached by former cricketer Ted Dexter to see if I would help him develop a "scientific" method of ranking cricketers. Of course I said yes (wouldn't you?). With my colleague Gordon Vince we developed a system based around weightings and "exponential smoothing", which was published as the Deloittes Ratings of Test Cricketers in June 1987.
At first our system was greeted with scepticism and even hostility by many cricket lovers - and with good reason, as there were a lot of flaws in the original system. But after a year or so refining it, the ratings began to gain credibility and were increasingly adopted by the cricket media worldwide. The system began to be referred to as "official". Some international players began to use it to help negotiate their contracts. Known in later years as the PwC Ratings, the system was officially adopted by the International Cricket Council in January 2005. Now it really was (and is) official.
Since 2005, we have introduced rankings for Women's One Day Internationals, and also for Men's and Women's Twenty20 internationals.
Meanwhile, I still play cricket. Since 1986 I've belonged to the Mandarins Cricket Club, once as a fearsome opening bowler (in my dreams...) but these days hoping to dismiss batsmen using guile and my gentle away swing.
I write occasional blogs about cricket here: cricketblog. Click here for the ICC cricket rankings and The Mandarins. In my 2017 Zeeman lecture, I made comparisons between cricket and maths.